This seven-week series unpacks seven habits laid out by Pastor Mark Batterson in his latest book, Win the Day: 7 Daily Habits to Help You Stress Less & Accomplish More. In this series, you will learn how to implement these seven habits into your daily life, while also making meaningful investments for your future by forming healthy lifestyle changes. These practices, grounded in the words of the Bible, are done to bring glory to Jesus Christ, making the most of the opportunities he's given us to usher in the Kingdom of God.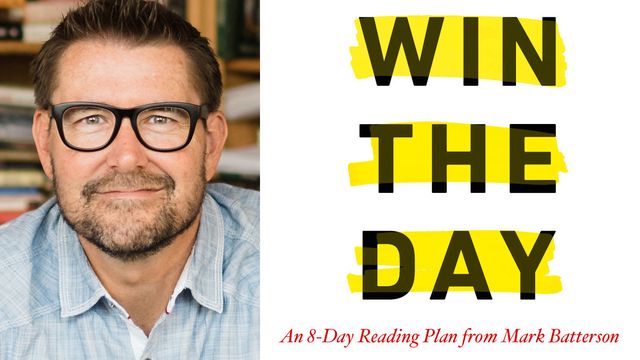 8 Days
---
13 "Sir," Gideon replied, "if the Lord is with us, why has all this happened to us? And where are all the miracles our ancestors told us about? Didn't they say, 'The Lord brought us up out of Egypt'? But now the Lord has abandoned us and handed us over to the Midianites." 14 Then the Lord turned to him and said, "Go with the strength you have, and rescue Israel from the Midianites. I am sending you!" 15 "But Lord," Gideon replied, "how can I rescue Israel? My clan is the weakest in the whole tribe of Manasseh, and I am the least in my entire family!" 16 The Lord said to him, "I will be with you. And you will destroy the Midianites as if you were fighting against one man."
23 So when Joseph arrived, his brothers ripped off the beautiful robe he was wearing. 24 Then they grabbed him and threw him into the cistern. Now the cistern was empty; there was no water in it. 25 Then, just as they were sitting down to eat, they looked up and saw a caravan of camels in the distance coming toward them. It was a group of Ishmaelite traders taking a load of gum, balm, and aromatic resin from Gilead down to Egypt. 26 Judah said to his brothers, "What will we gain by killing our brother? We'd have to cover up the crime. 27 Instead of hurting him, let's sell him to those Ishmaelite traders. After all, he is our brother—our own flesh and blood!" And his brothers agreed. 28 So when the Ishmaelites, who were Midianite traders, came by, Joseph's brothers pulled him out of the cistern and sold him to them for twenty pieces of silver. And the traders took him to Egypt.
35 As evening came, Jesus said to his disciples, "Let's cross to the other side of the lake." 36 So they took Jesus in the boat and started out, leaving the crowds behind (although other boats followed). 37 But soon a fierce storm came up. High waves were breaking into the boat, and it began to fill with water. 38 Jesus was sleeping at the back of the boat with his head on a cushion. The disciples woke him up, shouting, "Teacher, don't you care that we're going to drown?" 39 When Jesus woke up, he rebuked the wind and said to the waves, "Silence! Be still!" Suddenly the wind stopped, and there was a great calm. 40 Then he asked them, "Why are you afraid? Do you still have no faith?" 41 The disciples were absolutely terrified. "Who is this man?" they asked each other. "Even the wind and waves obey him!"
17 When I saw him, I fell at his feet as if I were dead. But he laid his right hand on me and said, "Don't be afraid! I am the First and the Last. 18 I am the living one. I died, but look—I am alive forever and ever! And I hold the keys of death and the grave.#1:18 Greek and Hades.
---