This seven-week series unpacks seven habits laid out by Pastor Mark Batterson in his latest book, Win the Day: 7 Daily Habits to Help You Stress Less & Accomplish More. In this series, you will learn how to implement these seven habits into your daily life, while also making meaningful investments for your future by forming healthy lifestyle changes. These practices, grounded in the words of the Bible, are done to bring glory to Jesus Christ, making the most of the opportunities he's given us to usher in the Kingdom of God.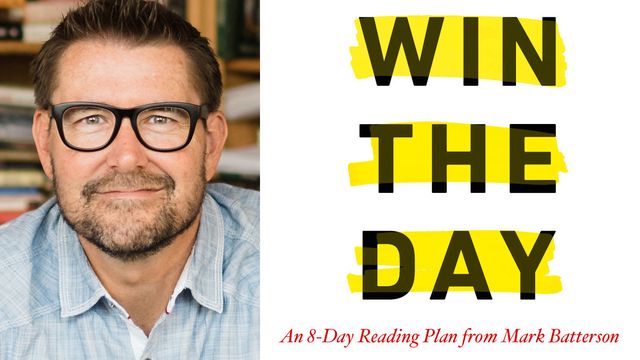 8 Days
17 But now I said to them, "You know very well what trouble we are in. Jerusalem lies in ruins, and its gates have been destroyed by fire. Let us rebuild the wall of Jerusalem and end this disgrace!" 18 Then I told them about how the gracious hand of God had been on me, and about my conversation with the king.They replied at once, "Yes, let's rebuild the wall!" So they began the good work.
11 O Lord, please hear my prayer! Listen to the prayers of those of us who delight in honoring you. Please grant me success today by making the king favorable to me. Put it into his heart to be kind to me."In those days I was the king's cup-bearer.
4 When I heard this, I sat down and wept. In fact, for days I mourned, fasted, and prayed to the God of heaven.
1 Send your grain across the seas, and in time, profits will flow back to you. 2 But divide your investments among many places, for you do not know what risks might lie ahead. 3 When clouds are heavy, the rains come down.Whether a tree falls north or south, it stays where it falls. 4 Farmers who wait for perfect weather never plant.If they watch every cloud, they never harvest. 5 Just as you cannot understand the path of the wind or the mystery of a tiny baby growing in its mother's womb, so you cannot understand the activity of God, who does all things. 6 Plant your seed in the morning and keep busy all afternoon, for you don't know if profit will come from one activity or another—or maybe both.
19 But when Sanballat, Tobiah, and Geshem the Arab heard of our plan, they scoffed contemptuously. "What are you doing? Are you rebelling against the king?" they asked. 20 I replied, "The God of heaven will help us succeed. We, his servants, will start rebuilding this wall. But you have no share, legal right, or historic claim in Jerusalem."
1 Early the following spring, in the month of Nisan, during the twentieth year of King Artaxerxes' reign, I was serving the king his wine. I had never before appeared sad in his presence. 2 So the king asked me, "Why are you looking so sad? You don't look sick to me. You must be deeply troubled."Then I was terrified, 3 but I replied, "Long live the king! How can I not be sad? For the city where my ancestors are buried is in ruins, and the gates have been destroyed by fire." 4 The king asked, "Well, how can I help you?"With a prayer to the God of heaven, 5 I replied, "If it please the king, and if you are pleased with me, your servant, send me to Judah to rebuild the city where my ancestors are buried."
34 Then, calling the crowd to join his disciples, he said, "If any of you wants to be my follower, you must give up your own way, take up your cross, and follow me. 35 If you try to hang on to your life, you will lose it. But if you give up your life for my sake and for the sake of the Good News, you will save it.
17 But now I said to them, "You know very well what trouble we are in. Jerusalem lies in ruins, and its gates have been destroyed by fire. Let us rebuild the wall of Jerusalem and end this disgrace!" 18 Then I told them about how the gracious hand of God had been on me, and about my conversation with the king.They replied at once, "Yes, let's rebuild the wall!" So they began the good work. 19 But when Sanballat, Tobiah, and Geshem the Arab heard of our plan, they scoffed contemptuously. "What are you doing? Are you rebelling against the king?" they asked. 20 I replied, "The God of heaven will help us succeed. We, his servants, will start rebuilding this wall. But you have no share, legal right, or historic claim in Jerusalem."