Love Your Enemies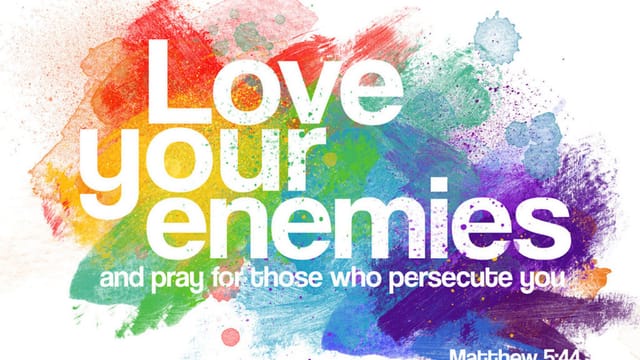 32 Two others, who were criminals, were led away to be put to death with him. 33 And when they came to the place that is called The Skull, there they crucified him, and the criminals, one on his right and one on his left. 34 And Jesus said, "Father, forgive them, for they know not what they do." And they cast lots to divide his garments.
8 but God shows his love for us in that while we were still sinners, Christ died for us.
9 In this the love of God was made manifest among us, that God sent his only Son into the world, so that we might live through him.
18 All this is from God, who through Christ reconciled us to himself and gave us the ministry of reconciliation;
23 When he was reviled, he did not revile in return; when he suffered, he did not threaten, but continued entrusting himself to him who judges justly.
2 looking to Jesus, the founder and perfecter of our faith, who for the joy that was set before him endured the cross, despising the shame, and is seated at the right hand of the throne of God.
18 There is no fear in love, but perfect love casts out fear. For fear has to do with punishment, and whoever fears has not been perfected in love.
1 And you were dead in the trespasses and sins 2 in which you once walked, following the course of this world, following the prince of the power of the air, the spirit that is now at work in the sons of disobedience— 3 among whom we all once lived in the passions of our flesh, carrying out the desires of the body and the mind, and were by nature children of wrath, like the rest of mankind.
54 When the centurion and those who were with him, keeping watch over Jesus, saw the earthquake and what took place, they were filled with awe and said, "Truly this was the Son of God!"