There's a word many Christians are afraid of. It's almost a bad word. If you have it, many people assume it means you're self-serving. Power hungry. But most of all, arrogant. I'm talking about ambition. Let's clear this up once and for all: nowhere in the Bible is ambition condemned. Selfish ambition is definitely warned against. But ambition for the sake of God's glory is not only condoned, it's commended. It's a required asset for anyone wanting to rise above the mass of men and do something extraordinary. God wants to redeem your ambition.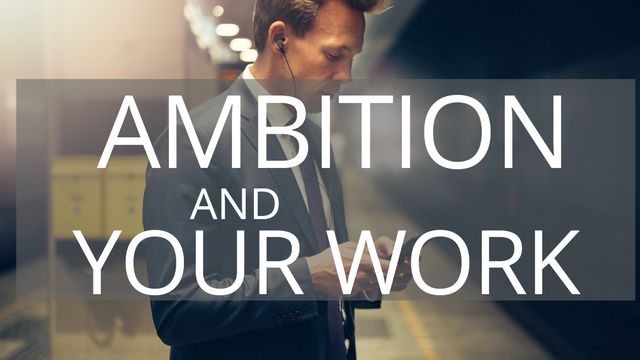 6 Days
18 During his lifetime Absalom had taken a pillar and erected it in the King's Valley as a monument to himself, for he thought, "I have no son to carry on the memory of my name." He named the pillar after himself, and it is called Absalom's Monument to this day.
21 When King David heard all this, he was furious.
5 Should you then seek great things for yourself? Do not seek them. For I will bring disaster on all people, declares the Lord, but wherever you go I will let you escape with your life.' "
14 But if you harbor bitter envy and selfish ambition in your hearts, do not boast about it or deny the truth. 15 Such "wisdom" does not come down from heaven but is earthly, unspiritual, demonic. 16 For where you have envy and selfish ambition, there you find disorder and every evil practice.
19 The acts of the flesh are obvious: sexual immorality, impurity and debauchery; 20 idolatry and witchcraft; hatred, discord, jealousy, fits of rage, selfish ambition, dissensions, factions 21 and envy; drunkenness, orgies, and the like. I warn you, as I did before, that those who live like this will not inherit the kingdom of God.
25 In all Israel there was not a man so highly praised for his handsome appearance as Absalom. From the top of his head to the sole of his foot there was no blemish in him. 26 Whenever he cut the hair of his head—he used to cut his hair once a year because it became too heavy for him—he would weigh it, and its weight was two hundred shekels by the royal standard.
1 In the course of time, Absalom provided himself with a chariot and horses and with fifty men to run ahead of him.
2 Do not conform to the pattern of this world, but be transformed by the renewing of your mind. Then you will be able to test and approve what God's will is—his good, pleasing and perfect will.
7 But the Lord said to Samuel, "Do not consider his appearance or his height, for I have rejected him. The Lord does not look at the things people look at. People look at the outward appearance, but the Lord looks at the heart."
27 "Woe to you, teachers of the law and Pharisees, you hypocrites! You are like whitewashed tombs, which look beautiful on the outside but on the inside are full of the bones of the dead and everything unclean. 28 In the same way, on the outside you appear to people as righteous but on the inside you are full of hypocrisy and wickedness.
23 Above all else, guard your heart, for everything you do flows from it.
2 He would get up early and stand by the side of the road leading to the city gate. Whenever anyone came with a complaint to be placed before the king for a decision, Absalom would call out to him, "What town are you from?" He would answer, "Your servant is from one of the tribes of Israel." 3 Then Absalom would say to him, "Look, your claims are valid and proper, but there is no representative of the king to hear you." 4 And Absalom would add, "If only I were appointed judge in the land! Then everyone who has a complaint or case could come to me and I would see that they receive justice." 5 Also, whenever anyone approached him to bow down before him, Absalom would reach out his hand, take hold of him and kiss him.
10 Am I now trying to win the approval of human beings, or of God? Or am I trying to please people? If I were still trying to please people, I would not be a servant of Christ.
4 Then they said, "Come, let us build ourselves a city, with a tower that reaches to the heavens, so that we may make a name for ourselves; otherwise we will be scattered over the face of the whole earth."
24 By faith Moses, when he had grown up, refused to be known as the son of Pharaoh's daughter. 25 He chose to be mistreated along with the people of God rather than to enjoy the fleeting pleasures of sin. 26 He regarded disgrace for the sake of Christ as of greater value than the treasures of Egypt, because he was looking ahead to his reward.
6 Blessed are those who hunger and thirst for righteousness, for they will be filled.
6 Absalom behaved in this way toward all the Israelites who came to the king asking for justice, and so he stole the hearts of the people of Israel.
1 Corinthians 15:57-58 

NIV
57 But thanks be to God! He gives us the victory through our Lord Jesus Christ. 58 Therefore, my dear brothers and sisters, stand firm. Let nothing move you. Always give yourselves fully to the work of the Lord, because you know that your labor in the Lord is not in vain.
21 Ahithophel answered, "Sleep with your father's concubines whom he left to take care of the palace. Then all Israel will hear that you have made yourself obnoxious to your father, and the hands of everyone with you will be more resolute." 22 So they pitched a tent for Absalom on the roof, and he slept with his father's concubines in the sight of all Israel.
7 At the end of four years, Absalom said to the king, "Let me go to Hebron and fulfill a vow I made to the Lord. 8 While your servant was living at Geshur in Aram, I made this vow: 'If the Lord takes me back to Jerusalem, I will worship the Lord in Hebron.' " 9 The king said to him, "Go in peace." So he went to Hebron. 10 Then Absalom sent secret messengers throughout the tribes of Israel to say, "As soon as you hear the sound of the trumpets, then say, 'Absalom is king in Hebron.' " 11 Two hundred men from Jerusalem had accompanied Absalom. They had been invited as guests and went quite innocently, knowing nothing about the matter. 12 While Absalom was offering sacrifices, he also sent for Ahithophel the Gilonite, David's counselor, to come from Giloh, his hometown. And so the conspiracy gained strength, and Absalom's following kept on increasing. 13 A messenger came and told David, "The hearts of the people of Israel are with Absalom."
10 Now, therefore, the sword will never depart from your house, because you despised me and took the wife of Uriah the Hittite to be your own.' 11 "This is what the Lord says: 'Out of your own household I am going to bring calamity on you. Before your very eyes I will take your wives and give them to one who is close to you, and he will sleep with your wives in broad daylight. 12 You did it in secret, but I will do this thing in broad daylight before all Israel.' "
33 The king was shaken. He went up to the room over the gateway and wept. As he went, he said: "O my son Absalom! My son, my son Absalom! If only I had died instead of you—O Absalom, my son, my son!"