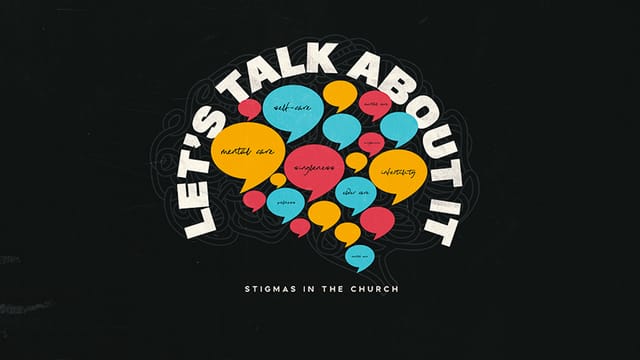 Let's Talk About Mental Health
This four-week series tackles a different stigma or subject each week. God offers believers healing and hope instead of condemnation as they struggle with mental health, physical health, children, and aging. Scripture guides our understanding of how to live and serve despite the stigmas that sometimes surround our realities.
4 Yet it was our weaknesses he carried; it was our sorrows that weighed him down.And we thought his troubles were a punishment from God, a punishment for his own sins! 5 But he was pierced for our rebellion, crushed for our sins.He was beaten so we could be whole.He was whipped so we could be healed. 6 All of us, like sheep, have strayed away.We have left God's paths to follow our own.Yet the Lord laid on him the sins of us all.
5 Why am I discouraged?Why is my heart so sad?I will put my hope in God!I will praise him again—my Savior and 6 my God!Now I am deeply discouraged, but I will remember you—even from distant Mount Hermon, the source of the Jordan, from the land of Mount Mizar.
17 Elijah was as human as we are, and yet when he prayed earnestly that no rain would fall, none fell for three and a half years!
30 And you must love the Lord your God with all your heart, all your soul, all your mind, and all your strength.' 31 The second is equally important: 'Love your neighbor as yourself.' No other commandment is greater than these."
7 Then the Lord God formed the man from the dust of the ground. He breathed the breath of life into the man's nostrils, and the man became a living person.
23 Now may the God of peace make you holy in every way, and may your whole spirit and soul and body be kept blameless until our Lord Jesus Christ comes again.
52 Jesus grew in wisdom and in stature and in favor with God and all the people.
1 Oh, what joy for those whose disobedience is forgiven, whose sin is put out of sight! 2 Yes, what joy for those whose record the Lord has cleared of guilt, whose lives are lived in complete honesty! 3 When I refused to confess my sin, my body wasted away, and I groaned all day long. 4 Day and night your hand of discipline was heavy on me.My strength evaporated like water in the summer heat. Interlude 5 Finally, I confessed all my sins to you and stopped trying to hide my guilt.I said to myself, "I will confess my rebellion to the Lord."And you forgave me! All my guilt is gone. Interlude
2 Corinthians 4:16-18 

NLT
16 That is why we never give up. Though our bodies are dying, our spirits are being renewed every day. 17 For our present troubles are small and won't last very long. Yet they produce for us a glory that vastly outweighs them and will last forever! 18 So we don't look at the troubles we can see now; rather, we fix our gaze on things that cannot be seen. For the things we see now will soon be gone, but the things we cannot see will last forever.
2 Don't copy the behavior and customs of this world, but let God transform you into a new person by changing the way you think. Then you will learn to know God's will for you, which is good and pleasing and perfect.
12 For the word of God is alive and powerful. It is sharper than the sharpest two-edged sword, cutting between soul and spirit, between joint and marrow. It exposes our innermost thoughts and desires.
18 Then the Lord God said, "It is not good for the man to be alone. I will make a helper who is just right for him."
24 But Jesus didn't trust them, because he knew all about people. 25 No one needed to tell him about human nature, for he knew what was in each person's heart.
1 O Lord, you have examined my heart and know everything about me. 2 You know when I sit down or stand up.You know my thoughts even when I'm far away. 3 You see me when I travel and when I rest at home.You know everything I do. 4 You know what I am going to say even before I say it, Lord. 5 You go before me and follow me.You place your hand of blessing on my head. 6 Such knowledge is too wonderful for me, too great for me to understand!
13 You made all the delicate, inner parts of my body and knit me together in my mother's womb. 14 Thank you for making me so wonderfully complex!Your workmanship is marvelous—how well I know it. 15 You watched me as I was being formed in utter seclusion, as I was woven together in the dark of the womb. 16 You saw me before I was born.Every day of my life was recorded in your book.Every moment was laid out before a single day had passed.